Cleaning glass surfaces doesn't always have to be a frustrating affair. With the right tools and cleaning techniques, you can easily achieve a streak-free finish and exquisite shine on your windows that'll leave anyone in awe.
Read on to learn everything you need to know about cleaning glass surfaces!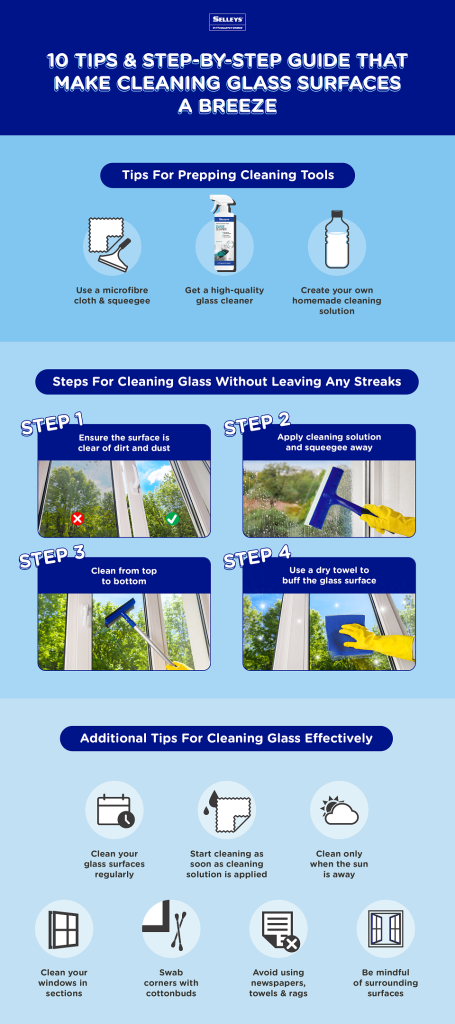 Tips for Prepping Cleaning Tools for Glass
Before we jump straight into the techniques for glass cleaning, you'll first need to have all the appropriate cleaning tools to set you up for success.
1. Prepare a microfibre cloth and squeegee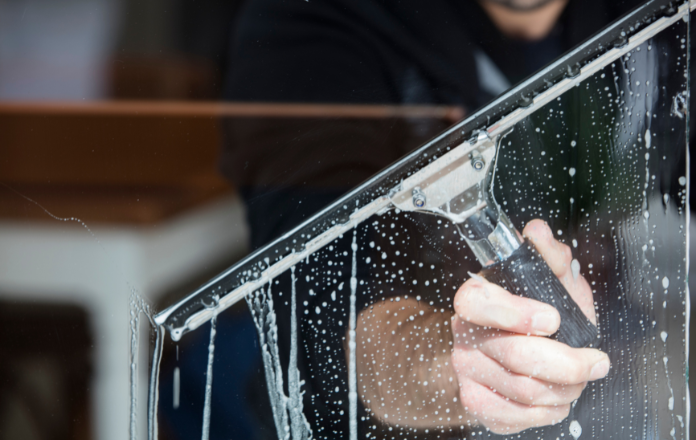 A microfibre cloth or duster is useful for removing any dirt and dust particles before a cleaning agent is applied to the glass surface.
A squeegee, on the other hand, helps to ensure that no cleaning solution residue is left on your glass after you're done wiping the surface. It's an easy-to-use tool that'll make polishing your windows, mirrors and glass doors a breeze.
2. Use a high-quality glass cleaning agent or solution
Choosing the right cleaning agent is a crucial part of the glass cleaning process. Generally, you'd want to opt for a cleaning solution that doesn't damage the glass surface and has anti-streaking properties.
Selleys Glass Cleaner is a powerful water-based cleaning agent that's specially designed for cleaning glass surfaces. With its anti-streak and anti-static formula, you can be confident that your glass will be sparkling clean and streak-free after every wash.
Your windows and mirrors will also be protected from mist and mould, as our cleaning solution boasts anti-mist and antibacterial properties. Selleys Glass Cleaner is highly versatile, and can be used on different surfaces including chrome and aluminium.
3. Create your own homemade cleaning solution
For the more thrifty and eco-friendly homeowners, a homemade cleaning solution can also work wonders.
Simply mix 2 cups of distilled water with half a cup of vinegar in a spray bottle, and you're ready to go! You can also add a few drops of essential oil or lemon squeeze, to give your solution a fresh scent.
Steps For Cleaning Glass Without Leaving Any Streaks
Now that you've prepared all the necessary tools, it's finally time to get your hands dirty (and your glass surfaces cleaned).
Our comprehensive step-by-step instructions will guide you on how to safely clean glass without leaving any streaks.
Step 1: Ensure the surface is clear of dirt and dust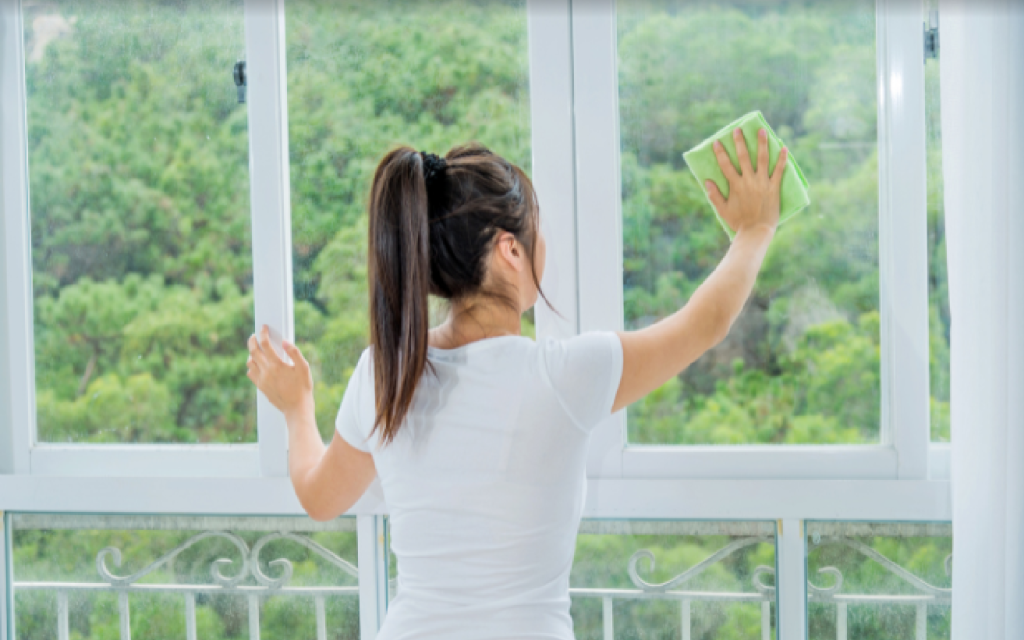 Before applying any cleaning solution to your window, mirror or glass tabletop, it's important to ensure that the surface is free of any dirt and dust particles. Use a microfibre cloth to wipe away any loose debris, and prepare the surface for cleaning.
Step 2: Apply cleaning solution and squeegee away
Spray the cleaning solution on the glass and squeegee the surface clean. Apply the solution generously, especially if there's a significant buildup of pesky grime and grease.
Note!

While it's good to be generous with your cleaning agent when the surface is dirty, applying too much solution may cause soapy suds* to form in excess. Such a dense layer of suds* can leave a streaky mess on your glass.

With enough practice, you'll be able to gauge how much cleaning agent is sufficient to clean your glass without leaving any streaks.

*Suds refer to the foam that's produced when water and soap are mixed together.
Step 3: Clean from top to bottom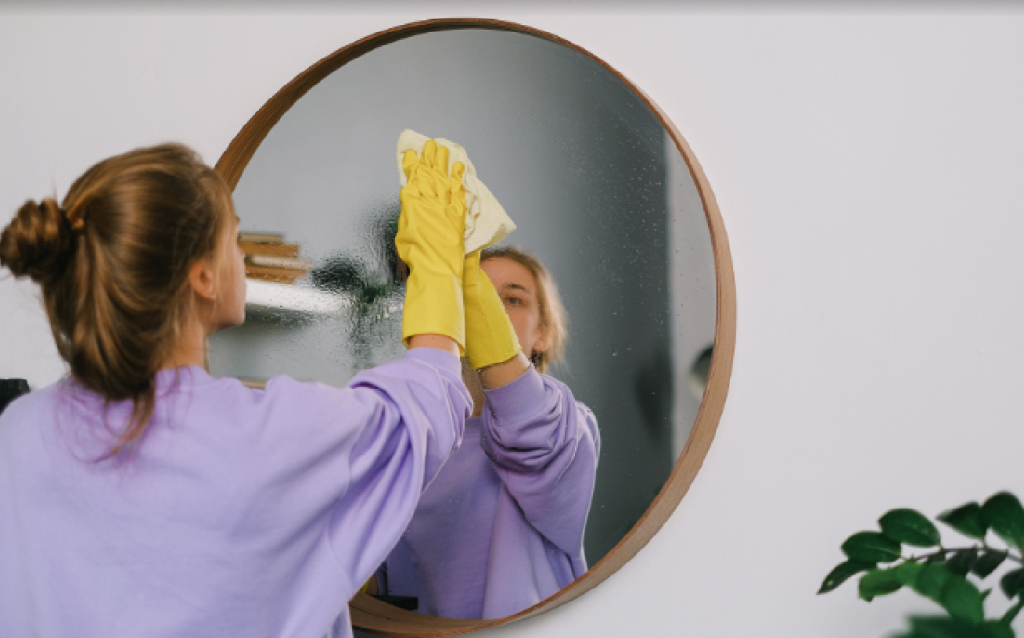 When cleaning any glass surface, it's recommended to clean from top to bottom. Doing so will prevent any excess cleaning solution from dripping over surfaces that have already been cleaned.
Step 4: Use a dry towel to buff the glass surface
After you've given your glass a good wipe down, perform a quick check to ensure that the surface is spotless.
In case of any streaks, simply use a clean and dry microfibre towel to gently buff over the glass surface. This should remove any traces of streaks.
Additional Tips For Cleaning Glass Effectively
Here are some additional tips and tricks you can use to make your glass cleaning experience as smooth as possible.
1. Clean your glass surfaces regularly
Glass surfaces should be cleaned frequently to ensure they're well-maintained.
Depending on the type of glass surface, here are some useful guidelines to follow:
Windows – once every 6 months
Mirrors – once a week
Tables – daily
Stovetop – after each use
Shower doors – after each use
Note!

For glass partitions and doors in bathrooms, you're advised to wash soap away as soon as you see them. By preventing soap scum from forming, you may not need to clean these surfaces as often!
2. Clean glass as soon as cleaning solution is applied
Glass surfaces should be cleaned as quickly as possible. This prevents the cleaning solution from drying up, which may cause streaks to form.
3. Clean only when the sun is away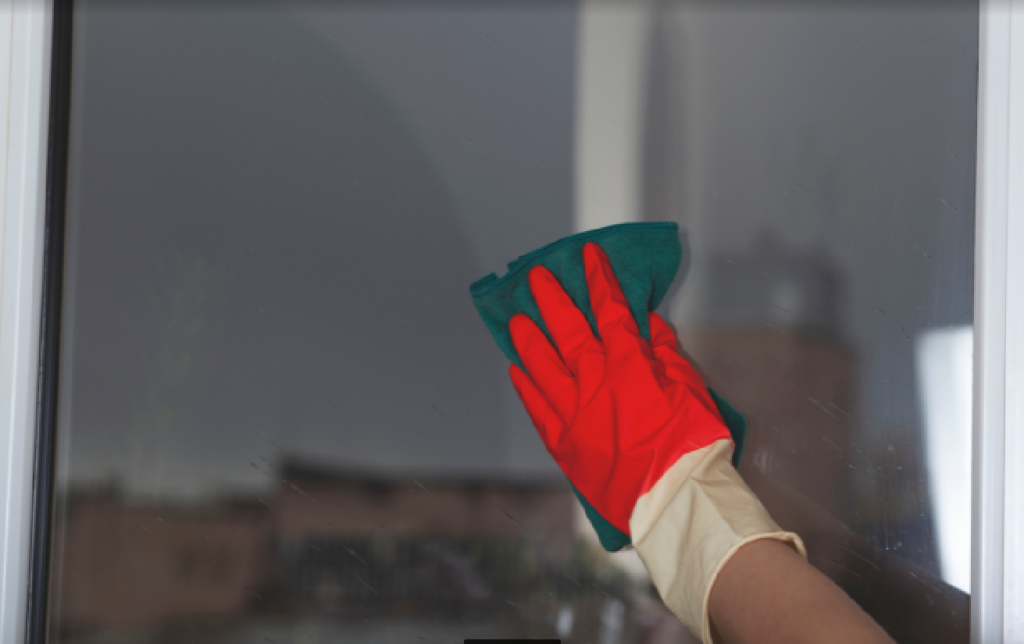 We recommend cleaning your windows on a cloudy day, or whenever the sun is away. When cleaning on a sunny day, the heat from the sunlight may cause the glass cleaning solution to evaporate quickly and leave streaks behind.
4. Clean your windows in sections
Apart from cleaning your windows from top to bottom, it's also helpful to clean them in sections. By wiping and drying 1 section at a time, the glass cleaning agent is less likely to dry up and form streaks.
5. Swab corners with cotton buds
A microfibre cloth or squeegee may not be able to clean dust and dirt in hard-to-reach areas such as the corners of mirrors and windows. In such situations, you can remove the particles by using cotton buds.
6. Avoid using newspapers, paper towels and rags
Contrary to popular belief, newspapers, paper towels and rags are ineffective when it comes to cleaning glass. These materials can cause scratch marks, and leave lint residue and streaks on glass surfaces.
Newspapers may also damage glass, and leave behind black ink smudges and unsightly marks.
7. Be mindful of surrounding surfaces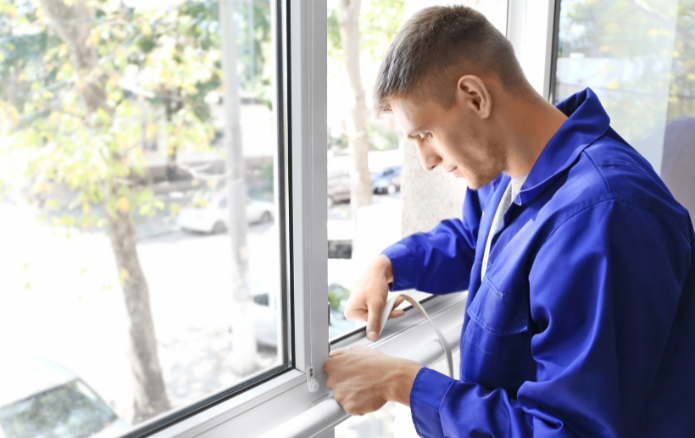 When cleaning any glass surface, it's important to take note of the surrounding area. Some cleaning agents may contain chemicals that can damage wooden surfaces, plastic frames and metal grilles.
To prevent damage to these surfaces, cover them up with a waterproof material such as cling wrap or laminated fabric before cleaning
Clean Your Glass Surfaces With Selleys Anti-Streaking Glass Cleaner
With our helpful tips and high-quality cleaning supplies, you'll no longer have to worry about dirty windows, mirrors and glass tabletops!
FAQs About Cleaning Glass
Some common glass surfaces that need to be cleaned at home include your windows, mirrors, bathroom doors and partitions, display cabinets and shelves, tabletops and stovetops.
When mixed together with distilled water, vinegar can be a good homemade solution for cleaning windows.
While dishwashing liquid can get the job done, it's recommended to use a proper glass or window cleaner to ensure that your surface doesn't get damaged and/or to prevent streaks during the cleaning process